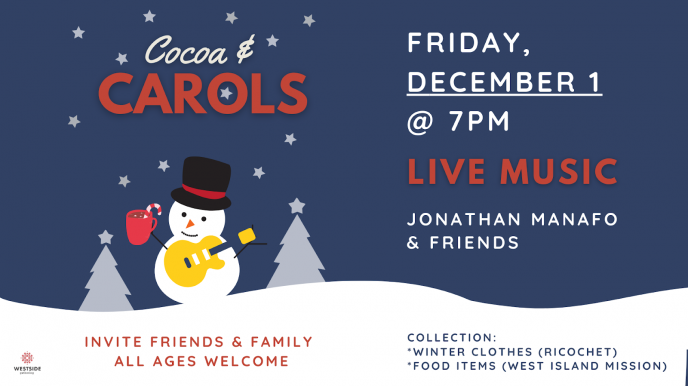 Join us for our 3rd annual CAROLS & COCOA event!
At the beginning of Advent, before the Christmas rush and parties get going, we dedicate an
evening for a fun time of
Carols (the sing along type, but with some great musicians) and Cocoa (your favourite holiday hot chocolate with lots of extras).
DETAILS
- 7:00PM // FREE (doors open @ 6:30PM)
- Carols from 7-8PM (inside our auditorium)
- Cocoa from 8PM until close (parking lot, weather permitting)
All are welcome! Invite your friends and family.

* to help us prepare enough seats and hot chocolate, you can register here if you already know you're coming; however, registration is not obligatory for this event, so last minute invites and guests are still very welcome.
MUSICAL GUEST
Jonathan Manafo, accompanied by some Westside friends.
Before the mall and office parties drag you into exhaustion, get this event on your calendar to make the last month of 2023 enriching and encouraging!
Our past Carols & Cocoa events have brought out people of all ages, which is what makes this event so fun and fulfilling. It reminds us of a time when people got together in simple ways.

OTHER DETAILS
Winter Clothes for Ricochet
- Coats (urgent)
- Boots (urgent)
- Blankets (urgent)
- underwear and socks (new)
* KidsQuest is putting together care packages and are hoping we collect 50-60 pairs of gloves to include (simple but warm options); let's partner with the kids!!
Food for West Island Mission (top 5 items)
- Cereal
- Pasta Sauce
- Canned Tomatoes
- Canned Tuna
- 1L Juice
---